Did you know?
Using a certified Clean BC Registered Contractor allows you to qualify for up to $17,000 in government rebates on your new heat pump installation.
We are HPCN Clean BC Registered Contractors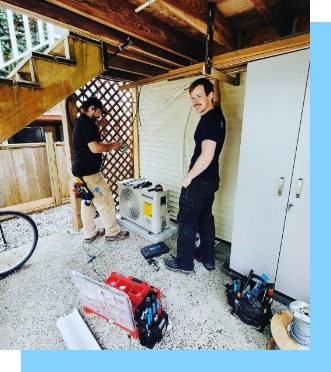 Nothing has a bigger impact on the performance of your heat pump than the quality of the heat pump installation process. This is why in order to qualify for grants the BC and Federal governments would require your heat pump to be installed by a Clean BC Registered Contractor.
The Heat Pump process:
Step 1: Call us to schedule our heat pump specialist to visit your home and perform a heat pump evaluation
Step 2: Have an energy advisor perform an energy evaluation at your home. We can provide contact information for our favorite energy advisors. This will qualify you for a $5,000 Greener Homes Federal Grant.
Step 3: Have an electrician install an electrical disconnect (which must be carried out by a certified electrician) We can provide contact information for our favorite electrical companies. We will work with your electrician to ensure the job is done correctly.
Step 4: Let us install your new heat pump!
Step 5: Apply for your grants. We can help walk you through this process.
Step 6: Enjoy a new level of comfort and efficiency in both Air Conditioning and Heating!
Heat Pump Installation Service
Now is a good time to invest in a heat pump replacement if you use a system that won't stop malfunctioning. The older the heating and cooling equipment is, the more you can expect to have a problem with your energy bills. An outdated unit will have to work harder and longer to regulate the indoor temperature.
A new heat pump, however, will lower your energy costs and carbon footprint in the long run. This is the case because the two-in-one unit relies on electricity and refrigerant instead of natural gas. Using a climate control system that doesn't require combustible fuel is safer for you and the environment. If you're considering a new heating system altogether, you might be interested in understanding the differences between a heat pump and a furnace, which you can learn more about in our dedicated article."
Here are four more reasons to upgrade your heat pump:
Frequent repairs
Inefficient and noisy operation
Pump is more than 10 years old
Uneven heating or cooling
After almost a decade of running, climate control systems are more likely to stop functioning correctly. The good news is that you can watch out for the red flags that indicate your heat pump is on its last legs. The most common ones include component failure and constant short cycling.
It may be more economical to install a new unit than to replace an expensive part. By getting a heat pump replacement sooner rather than later, you can maintain pleasant indoor conditions and avoid unnecessary inconveniences.
With a cutting-edge heat pump in place, you can easily prevent drafts and heat waves from lowering your comfort. The system is good at spreading warmth and cool air evenly. It has the right technology to ensure optimal temperature regulation. For years to come, this investment will help not only your well-being but also your peace of mind. A properly installed unit will work like a charm whenever it's on.
Heat Pump Replacement in Vancouver
Look no further than Western Pacific Heating, Cooling & Airflow if you want well-trained professionals to carry out your HVAC installation. We have a reputation for completing jobs right the first time. We're fast and proficient with our tools, so we can quickly get your heat pump up and running.
Delivering your desired results is a priority for us, and establishing a long-term relationship with you is equally important. Furthermore, our customers are the cornerstones of our company. This means you can always expect us to be responsive to your needs.
We'll also strive to be punctual because we don't want to keep you waiting. We understand a hot or cold living space in Vancouver can be miserable. Providing you with a personalized solution will make the biggest difference.
Call Western Pacific Heating, Cooling & Airflow today to schedule your heat pump installation in Vancouver.
Call our team for reliable heat pump installation in Vancouver, BC today!