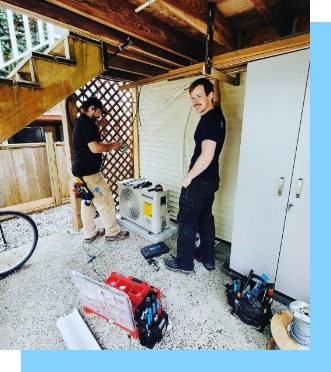 Western Pacific Heating, Cooling & Airflow is a professional heating company serving residential and commercial customers in Vancouver, BC for many years. As a Thermal Environmental Comfort Association member, we're a little obsessed with providing our customers the utmost in-home comfort, from keeping you warm in a chilly British Columbia winter to ensuring you have fresh interior air quality all year round.
As a locally owned and operated HVAC contractor, we're committed to customer service and developing long-term relationships with our business and homeowner clients. With professionally certified technicians and transparent quotes, we're the best heating company to call for ethical and reliable service.
Experienced Heating Company for Repair
The middle of a Vancouver winter is no time to have your furnace or heat pump break down. When your heating system breaks down, you need the right HVAC contractor – Western Pacific Heating, Cooling & Airflow. We have convenient appointment scheduling to work with your calendar. Our technicians arrive ready to work, and with a warehouse of parts, we can bring what we need to fix your heating problem correctly the first time.
There are many signs to pay attention to that indicate you need heating company service.
Call us right away if you experience any of these!

Strange smells or unusual sounds
Difficulty starting the furnace
Inadequate heating or inconsistent heating
Poor indoor air quality
Tripped carbon monoxide detector
Installation from a Trusted HVAC Contractor
Even with the best of care, eventually, your heating unit will need to be replaced. The average furnace lifespan is about 10 years, and it will begin to lose efficiency before that. Western Pacific Heating, Cooling & Airflow provides reliable heater installation, and we can help you find the right model for your needs and budget. Plus, with our full-service installation, we'll dispose of your old unit so you don't have to!
Expert Heating Maintenance in Vancouver
With annual preventative maintenance, you can extend the life of your heating unit. Western Pacific Heating, Cooling & Airflow, your local heating company, offers service and cleaning packages to help your system run smoothly and catch small issues before they become emergency repairs. Allow our technicians to keep your heater in pristine condition year after year.
"Your Comfort Status Refreshed!" Western Pacific Heating, Cooling & Airflow is proud to be the most trusted HVAC contractor in Vancouver. Give us a call today to schedule your service!
Do you need an air conditioner company instead? We also provide a full range of AC services!
User Reviews on Google
4.9/5 from 61 reviews
We are so glad to have found this company for our new heat pump! They are very professional and responsive despite some challenges we had faced with electrical and getting enough airflow to our top floor (as we have a much older home), they worked with us through the process and solutions to make it better. A great team to work with – Trevor, Shannon, Bryce are very knowledgeable, friendly and helpful, and Kelly – coordinating on the backend to ensure a smooth customer experience. I have referred this company to family and friends and will continue to do so!
Western Pacific installed a heat pump and aircon in our condo. We are very pleased with the results and highly recommend Western Pacific. Everyone from Trevor, Shannon, Kelly, Bryce and Connor was very responsive, professional, personable and patient with our multiple questions. 🙂 Bryce and Connor were creative in finding solutions to any issue and were such an easy team to work with. After the installation was complete, they are still helping us with our questions. Would hire them again in a second! Thank you, Western Pacific!
Very professional and timely communication with the technician Bryce and his colleagues. Our house just went through a major remodel and we decided to install heat pump. The overall process is very professional and the Samsung heat pump is very enjoyable to our family. With the government rebate for heat pump, the total cost is way more affordable. I recommend this company.
This is a very professional and well run company. They installed a heat pump for me. They help me with finding someone to help with grants. They double checked the install requirements and when they installed the heat pump they were fast, friendly and efficient. Also they cleaned up afterwards really well.