Did you know?
Using a certified Clean BC Registered Contractor allows you to qualify for up to $17,000 in government rebates on your new heat pump installation.
We are HPCN Clean BC Registered Contractors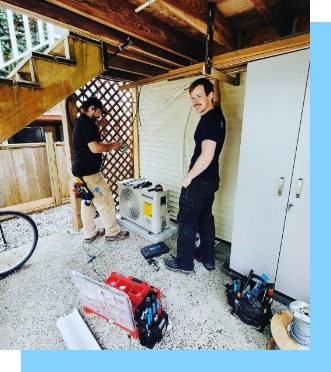 Nothing has a bigger impact on the performance of your heat pump than the quality of the heat pump installation process. This is why in order to qualify for grants the BC and Federal governments would require your heat pump to be installed by a Clean BC Registered Contractor.
The Heat Pump process:
Step 1: Call us to schedule our heat pump specialist to visit your home and perform a heat pump evaluation
Step 2: Have an energy advisor perform an energy evaluation at your home. We can provide contact information for our favorite energy advisors. This will qualify you for a $5,000 Greener Homes Federal Grant.
Step 3: Have an electrician install an electrical disconnect (which must be carried out by a certified electrician) We can provide contact information for our favorite electrical companies. We will work with your electrician to ensure the job is done correctly.
Step 4: Let us install your new heat pump!
Step 5: Apply for your grants. We can help walk you through this process.
Step 6: Enjoy a new level of comfort and efficiency in both Air Conditioning and Heating!
Call our team for reliable heat pump installation in Vancouver, BC today!